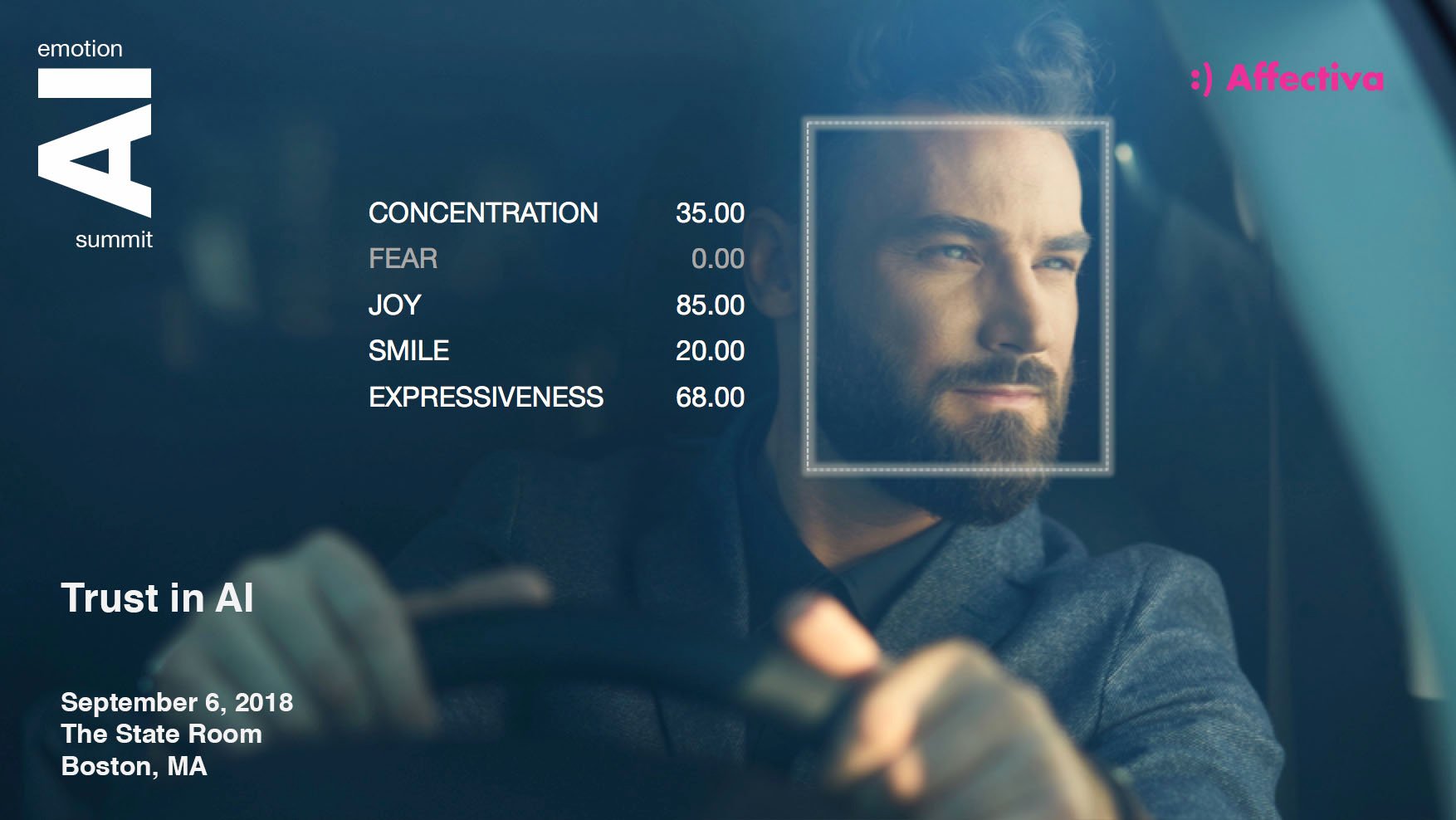 Emotion AI Summit 2018
Trust in AI
September 6th
The State Room - Boston, MA
Trust in AI
We live, work and play alongside Artificial Intelligence—it's ingrained in the fabric of our lives. It can be seen in the devices and technologies we use across society: at home, in the places we work, and in our cars.
Today, AI is doing things on our behalf. It's making us more efficient, faster and sometimes even happier. But with so many aspects of life being touched by AI, we're at a precipice, as the technology increasingly takes on roles traditionally held by humans, and becomes more personal in the ways that it interacts with us. As such, we need to ask ourselves: what it takes for humans to trust AI to make the right decisions—decisions that influence our lives, and for the greater good. And not only that, but how can AI trust in humans?
There are numerous examples where this new social contract does not exist—or notions of trust have been violated. How can we, as an ecosystem, come together to realize "Trust in AI"? What are the considerations and challenges? What does success look like?
Join us at this year's Emotion AI Summit where we will discuss Trust in AI, and how this manifests itself in vastly different areas: from automotive and robotics, to healthcare, education and even advertising. We will also explore how Emotion AI is a key component of building trust between humans and technology.
Speakers
Affectiva has invited industry thought leaders to speak at the Emotion AI Summit. Several exciting speakers have already committed, and more to follow soon.
Ola Bostrom, Ph.D.
Vice President Research & Patents
Veoneer

Joy Buolamwini
Researcher, MIT Media Lab
Founder, Algorithmic Justice League + Code4Rights

Karl Iagnemma, Ph.D.




President & Co-Founder nuTonomy (

acquired by Aptiv)

Khari Johnson
AI Staff Writer
VentureBeat

Rana el Kaliouby, Ph.D.
Co-founder & CEO
Affectiva

Loren Larsen
CTO
HireVue

Brian O'Keefe


Deputy Editor




Fortune

Graham Page
Director of Offer & Innovation, Kantar Millward Brown

Bryan Reimer, Ph.D

.


Research Scientist, MIT AgeLab




Associate Director, New England University Transportation Center

Eric Schurenberg


CEO




Mansueto Ventures

Peter Weinstock, Ph.D., M.D.




Executive Director & Chair, Boston Children's Hospital Simulator Program
Master of Ceremonies

Natalie Monbiot
SVP Futures
Samsung Starcom
Agenda
8:30 A.M. We start with Registration and Breakfast
5:00 P.M. We end with Happy Hour and Networking
Affectiva's 2018 Emotion AI Summit will explore Trust in AI, and how the concept is becoming a critical part of virtually all industries - from automotive, to HR and recruiting, to advertising, healthcare, robotics and more. Trust in AI is also a key component of the ongoing conversations around ethical uses of AI, as it stands to touch so many areas of our lives.
We have already lined up a number of thought leaders to speak, and are adding more every day. Please note, the content and agenda of the event are still being finalized and are subject to change, so be sure to check back regularly for updates.
Themes that will be explored at the Emotion AI Summit include:
Automotive
The automotive industry is under disruption. In recent years we have seen rapid advances in autonomous driving, new car companies going direct to consumers, and the rise of ride sharing projecting a decline in car ownership. Automation aims to make driving safer and more enjoyable, but is causing a lot of consumer distraction and frustration. All of these dynamics are forcing OEMs and Tier 1s to not only improve road safety, but also to rethink the future of transportation and the consumer brand experience. To achieve this, Emotion AI can help OEMs and Tier 1s gain a deep understanding of what is going on with the people in a car—both passengers and drivers. But with this, trust in AI is critical—both humans trusting in AI to make safe and comfortable driving decisions, as well as autonomous AI trusting in human drivers to be alert, engaged and ready to take back control if necessary.
At the Summit, automotive thought leaders will explore how AI can build trust in next-generation vehicles.
Ola Bostrom, Ph.D.,

Vice President of Research & Patents,

Veoneer.

Dr. Bostrom's work focuses on shaping consumer acceptance of autonomous vehicles by building two-way trust and confidence between human and machine. As the adoption and development of autonomous vehicles continues, the need for humans to trust that they're safe at the hands of their vehicle will be critical. AI systems that allow vehicles to really understand occupants, will have a huge role to play, not only in driver safety but in the future of autonomy.

Karl Iagnemma, Ph.D., President and co-Founder, nuTonomy, an MIT spin-off that builds software to improve the safety, efficiency, and accessibility of self-driving cars. nuTonomy was recently acquired by Aptiv to strengthen their position as a technology leader in the global autonomous mobility market.

Bryan Reimer, Ph.D., Research Scientist MIT AgeLab and Associate Director New England University Transportation Center. Dr. Reimer's work focuses on next generation human-machine interaction in automotive.
HR and Recruiting
Employers and recruiters do a tremendous amount of due diligence to find the perfect candidate for a position. But, with traditional recruiting processes rooted in paper resumes, phone screens and manual assessments, large corporations are challenged to fill numerous roles quickly—especially when they must manually sift through thousands of applications.
What if AI could transform the recruiting industry with fair algorithms that examine patterns of success in the best employees, and map these to applicants? How can both candidates and employers trust that AI can successfully identify the best candidate for an open position? And, how can we take steps to eliminate bias in the selection process, while fostering transparency?
Loren Larsen,

CTO at HireVue. Hirevue provides enterprises with an all-in-one video interview and pre-hire assessment solution. They use AI to analyze candidates' recorded interviews, enabling their clients to see significant reductions in time to hire and increases in new hire diversity.
Advertising
Establishing credibility and trust between a brand and consumers is key in building brand loyalty and converting prospects into customers. More often than not, the process of establishing that relationship begins when consumers are exposed to a brand's advertisements. What messages does the brand portray? Does it align with individuals' wants, needs and values? Does it establish credibility in its product or service? Does it foster an emotional connection? And most importantly, does it compel viewers to take action?
Emotion AI can help advertisers and brands get under the hood of what consumers really think about advertisements and campaigns, and in turn, the lasting impact on brand perception. Navigating trust in advertising between brands and consumers can be a challenge, so gaining deeper insights through Emotion AI can significantly help bridge an understanding between brands and their target audiences
At the Summit, advertising research experts will explore trust in brand building. They will also share how emotion analytics help quantify and leverage consumer intent when designing and testing ad campaigns.
Graham Page,

Director of Offer & Innovation at Kantar Millward Brown. Mr. Page pioneered the use of neuromarketing in advertising research.
Healthcare
According to a recent Accenture report, key clinical health AI applications can potentially create $150 billion in annual savings for the United States healthcare economy by 2026. At hyper-speed, AI is rewiring our modern conception of healthcare delivery. AI in health represents a collection of multiple technologies enabling machines to sense, comprehend, act and learn, so they can perform administrative and clinical healthcare functions.
Today, AI augments the critical work traditionally done by human medical experts. Enabling the rapid analysis of massive amounts of data, AI provides new approaches: from medical imaging and risk analysis, to the accurate diagnosis and effective treatment of all kinds of medical problems. And, from diagnostic fields, such as radiology and dermatology, to virtual nursing assistants and applications in the surgical arena.
What are the considerations to ensure clinicians and patients trust in AI, and how can Emotion AI help foster this trust?
Peter Weinstock, Ph.D., M.D.

, Executive Director & Chair, Boston Children's Hospital Simulator Program. Dr. Weinstock's work uses a blend of Hollywood special effects and 3D printing to create amazingly lifelike reproductions of real patients—so doctors can practice risky surgeries ahead of time.
Ethics
With plenty of examples where AI has gone wrong, trust in AI has been tarnished and questions of ethics are top-of-mind. Trust in AI starts with developing and deploying AI that is fair, accountable and transparent. How as a society do we achieve this? From ensuring that we eliminate algorithmic biases, to maintaining safety and addressing data privacy issues, the discussion of ethical AI in society must be a collaborative debate across the technology industry, corporations, government, academia, NGOs, and all other actors that AI will inevitably impact.
In this section of the agenda, we'll discuss different considerations at play in AI ethics today. We will explore how we can develop and apply ethical use cases and best practices, today and in the future.
Why Attend?
The Emotion AI Summit will host over 300 business and technology executives and media interested in the practical applications of Emotion AI and the impact it will have on the future of human to machine interaction.
Learn

how businesses across industries are using Emotion AI, how

they have implemented

it and what results they are seeing.

Explore

how Emotion AI can be used in your organization.
Participate

in discussions and Q&A with industry experts.
Try

hands-on demos of interactive devices and systems using Emotion AI.
Network

with thought leaders from a variety of industries.
Imagine

the future of human and machine interaction

.
The Venue
The State Room is an urban event space offering unmatched views of Boston harbor and the city below. Perched atop Sixty State Street skyscraper, this modern venue offers a spectacular view of Boston's skyline through a panoramic glass wall 20 ft high and 120 ft across.
Affectiva is excited to host its 2nd Emotion AI Summit at this unique venue in the heart of Boston, MA. We are confident that the environment and architecturally stunning space in this intellectually stimulating city will inspire us all, as we come together to shape the future of AI.
Getting to The State Room: parking and public transport
Address: 60 State Street, 33rd Floor, Boston MA
There are several public parking facilities near The State Room. See a listing here.
The State Room is easily reached by subway - take the T Orange Line to State Street.
About Affectiva
Affectiva, an MIT Media Lab spin-off, is the leading provider of AI software that detects complex and nuanced human emotions and cognitive states from face and voice. Its patented Emotion AI technology uses machine learning, deep learning, computer vision and speech science. Affectiva has built the world's largest emotion data repository with over 6.7 million faces analyzed in 87 countries. Used by one third of the Fortune Global 100 to test consumer engagement with ads, videos and TV programming, Affectiva is now working with leading OEMs, Tier 1s and technology providers on next generation multi-modal driver state monitoring and in-cabin mood sensing.